Harrisburg's Rombough named culinary arts State Educator of Excellence
Deb Rombough has "taken a dream and a mixing bowl and turned it into a full-on culinary experience for students," according to principal Ryan Rollinger.
PIERRE — A Harrisburg High School teacher was honored by a state association last week for her excellence in instructing culinary arts.
The South Dakota Retailers Association named Deb Rombough as this year's ProStart State Educator of Excellence for her outstanding achievement in high school culinary and restaurant management in the state.
ProStart — a curriculum developed by the National Restaurant Association Educational Foundation — helps to prepare high school students for leadership positions by teaching crucial workplace skills through the combination of hands-on learning in the classroom and mentored work experience. Harrisburg is one of 21 South Dakota high schools with a class utilizing the curriculum.
Rombough, who teaches Family and Consumer Sciences courses, used ProStart's mission of combining real-world experience and industry partnership by implementing a successful classroom store. In partnership with Sioux Falls-based roasterie Coffea, the store offers an assortment of coffee drinks, snacks and more to students within Harrisburg's high school.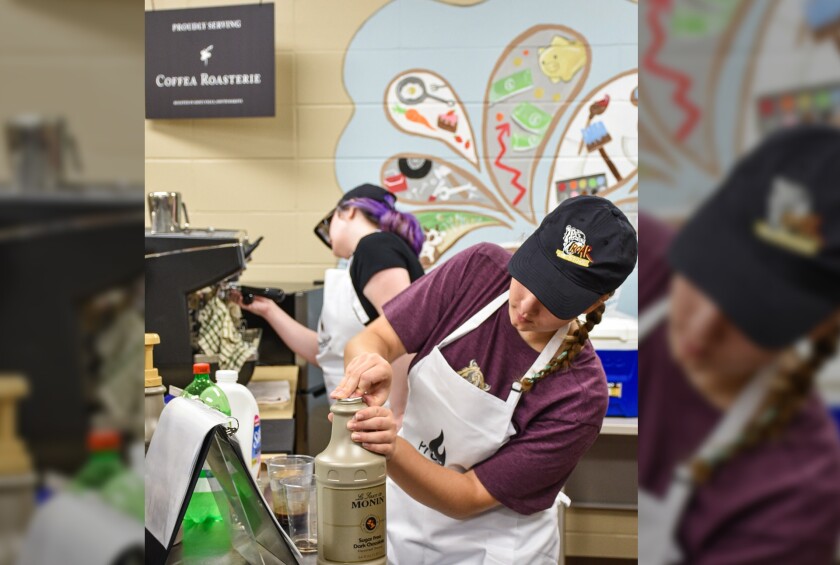 "I just feel very fortunate to get to work with professionals within the hospitality and tourism industry and learners who are passionate and dedicated," Rombough said. "It's been an amazing ride so far."
South Dakota ProStart Coordinator Seanna Regynski said Rombough's work helps provide students in Harrisburg an opportunity they might not find elsewhere.
"Industry connection is a main focus of her program and in everything she does," Regynski said. "The opportunities she provides her students are unmatched, and I can't think of anyone more deserving of this award."
In addition to Rombough's state honor, she is also a finalist for the National Educator of Excellence Awards. National winners are recognized according to various categories, including classroom expertise, best practice and knowledge sharing and industry connection. Each category winner will receive a monetary award.
"I am so proud of the work Mrs. Deb Rombough has done with our HHS Culinary Arts program. She has taken a dream and a mixing bowl and turned it into a full-on culinary experience for students allowing them a chance at certification and a window into the culinary world," added Ryan Rollinger, principal of Harrisburg High School, in an email to Sioux Falls Live. "I can't think of a better educator to be named the 2023 ProStart State Educator of Excellence award winner. I look forward to watching where Mrs. Rombough takes the program and being a part of its continued development."