McFeely: Kansas City's 'Mighty 7' send jittery Bison to disappointing spiral
The 10th-seeded Roos end Summit League tournament for the No. 2 seed NDSU on Saturday.
SIOUX FALLS, S.D. — The cheerleader-to-player ratio for Kansas City was 13:7. The young ladies with the pom-poms overwhelmed the women wearing blue uniforms at the Denny Sanford PREMIER Center on Saturday as the Roos played North Dakota State in the Summit League quarterfinals.
COVID was the reason. Three Roos players, including starter Jocelyn Ewell, missed the game because of the virus.
Yes, it's apparently still a thing in 2023 to make college athletes miss games because of the virus. But that's a topic for another day.
No bench, no problem for the Roos.
Three Kansas City players were on the floor for all 40 minutes. Another played more than 37. It mattered not.
Deemed 'The Mighty 7' by Kansas City senior Manna Mensah, the short-handed Roos gut-punched the Bison 71-64 to send the second-seeded team home with a crushing end to what appeared to be a promising season.
As for the 10th-seeded Roos, they'll get a day off before playing Monday in the semifinals against North Dakota or Oral Roberts.
Underdogs? Where? Kansas City hit a miracle shot in a play-in game Friday before just plain outplaying the Bison a day later.
"We're going to play. We're going to play like we don't care," said Mensah, who was terrific in scoring 25 points with five assists. "We are always underdogs, but we don't care and it shows. We got two wins."
The Bison had no answer for Mensah, or much of anything else. NDSU was tight and tenative for the first two quarters, missing nine layups while falling behind 41-29 at halftime. NDSU looked like a team that was playing with expectations in a new environment, while the Roos were free and easy.
"Like, listen, we faced a lot of adversity this season with injuries and other things. I can't even tell you. This might be the 20th different lineup we've played," said Roos coach Dionnah Jackson-Durrett. "But you know what? They step up. Great players make plays in March."
That's a lesson yet to be learned by the Bison, who came to Sioux Falls in the midst of their best season in more than a decade. With the second seed, NDSU had already wrapped up a berth in the Women's National Invitational Tournament regardless of how things went in the tournament.
Fact is, the Bison didn't expect a quick exit. A loss in the semfinals? Not optimal, but acceptable. Losing to powerful South Dakota State in the title game? That's more like it.
Instead, NDSU was "jittery" in the first half. That's the word coach Jory Collins used. He expected it. He also expected the Bison would shake it after a few minutes. It took until midway through the third quarter and a 17-point deficit for the Bison to settle down.
"Out of character," Bison guard Heaven Hamling said. "We weren't us and we weren't settling in."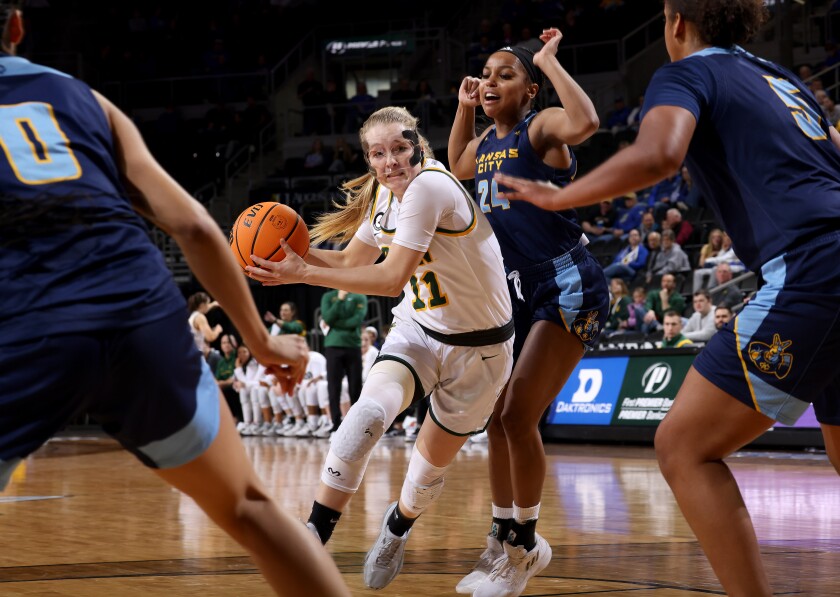 There's no way to massage the obvious: This is a disappointing loss for the Bison, made worse by their ugly performance.
It's been years since an NDSU women's team carried expectations into the Summit League tournament and the Bison flopped. Badly.
"I was excited for our team to be here," Collins said. "I thought they were mentally ready to do some good things here. Enjoy it and just kind of put a good cap on what we thought was a pretty good regular season. So they're all pretty crushed right now. And they should be. We all are. It's just disappointing to get to this environment, and it's such a great place, and then perform so badly."
At least the Kansas City cheerleaders, sporting a full squad nearly twice as large as the basketball team, had something about which to cheer.