Restaurant week leads into Easter weekend and egg hunts galore in Sioux Falls
The first home game for the Sioux Falls Storm indoor football team is Sunday.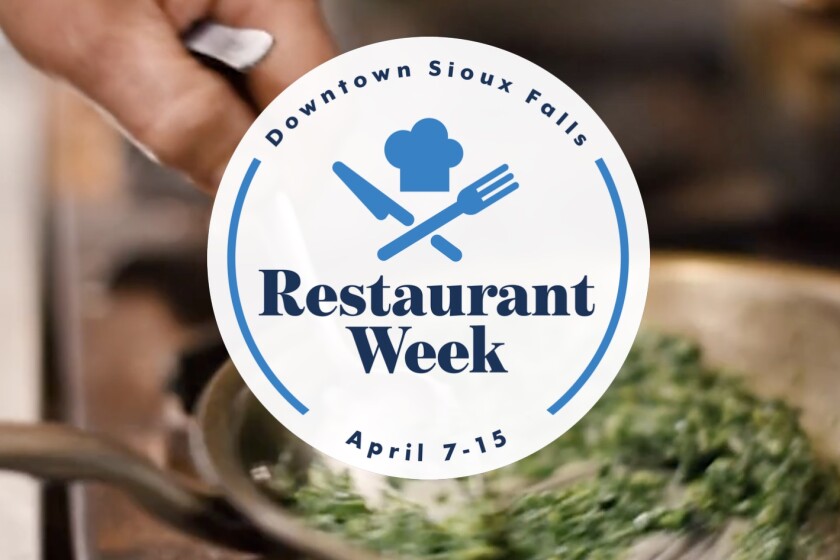 SIOUX FALLS — As any parent knows, taking children to a restaurant and long road trips are anxiety-inducing experiences.
But the storied tradition of Easter egg hunting is on its own level. New parents come to their first hunt with wide eyes and optimism. The kids are focused on the fabled eggs and have their baskets ready. Then the organizer says "go" and it's all-out war.
There's nothing quite like watching and recording your children dart through a field for plastic eggs. The joy and smile on their faces. The exuberance of youth. But wait, now the eggs are almost gone. You see a kid who can run a four-minute mile has grabbed them. There's one last egg your child has his eyes on, but another kid quickly comes and takes it. Your kid has three eggs and CrossFit Billy has 20. Tears are shed.
Yes, Easter egg hunting is a roller coaster of emotions, with a 50 percent chance of tears. But it's a child rite of passage.
Here's what you need to know this week, including Easter egg hunting, parking ramp construction and more. As always, check out SiouxFallsLive.com's calendar for more.
Hunting the Easter egg
If the above truth bomb didn't turn you off on egg hunting, there are many Easter egg events in Sioux Falls. And here are a few:

Come for the eggs, stay for the zoo animals during the Great Plains Zoo's Egg-stravaganza from 10 a.m. to 1 p.m. There will be activities during the entire event, but the egg hunt for children ages 4-and-under is at 11 a.m. and the hunt for children 5 and over is at 11:30.
If collecting eggs at a more leisurely pace sounds appealing, the Downtown Sioux Falls Easter Egg Hunt is for you. The free event runs from 11:30 a.m. to 3:30 p.m. Saturday, April 8. See a full list of participating businesses and a map on the Downtown Sioux Falls website.
The Sioux Falls Easter Egg Hunt at the W.H. Lyon Fairgrounds promises prize eggs with cash inside. Food trucks will be on hand for when the egg hunters get hungry, and there will be games to play. The free event starts at noon, with ages 0-4 hunting at 1 p.m., 5-8 at 1:45 p.m. and 9-12 at 2:30 p.m. A bike drawing will be held at 3:30 p.m. (must be present to win).
It's a safe bet nobody will have more Easter eggs than the Easter at Great Shots event. Organizers say more than 10,000 eggs will fill the field, with special golden eggs containing "eggstraordinary" prizes during the event on Saturday, April 8. The egg hunt starts at 8:30 and requires a brunch or golf package for admission.
SPORTS
Sioux Falls Storm's home opener this weekend
The Sioux Falls Storm haven't won an Indoor Football League title in four years, which is a long drought for the 11-time indoor champions. The rest of the league has caught up with the Storm's success.
Sioux Falls started their season on the road on April 1, but their home opener is at 5:05 p.m. Sunday, April 9, against Iowa.
Fans will see a lot of new faces when the Storm takes to their homefield for the first time. Longtime coach Kurtiss Riggs brings a steady presence to the sidelines, but only one player on the team has more than two years of football experience after college. That's quarterback Lorenzo Brown, who you may remember from his time at the University of Sioux Falls. He's returning to the team after a year hiatus.
Tickets start at $8.50 plus fees.
CITY
Construction to start on new airport parking ramp
If there's one thing Sioux Falls needs more of, it's parking ramps. And construction on the newest one at the airport starts this week.
The $63 million project will add a four-level parking garage with 975 spaces and will be directly outside the terminal, providing cover for cars and a shorter walk for those dropping off their cars while taking off from Sioux Falls. The ramp will also have a skyway connecting the second floor to the main terminal.
That's great and all, but it won't be ready until October 2024, and travelers will have to adjust to the construction in the meantime. The airport says that 67% of the current long-term spaces will be available, and there will be no parking in the short-term lot, since that's where the ramp is going.
Most travelers will need to use the economy lot located on the south side of the airport. A continuous shuttle service is going to be available from the lot to the terminal.
Here's a fun thing to keep in mind: If you return from multiple flights and layovers only to find your car isn't where you left it, it's most likely in the "relocated car lot." The airport website says some cars may have to be relocated during construction.
Just don't go inside the airport and yell at the poor front-desk worker like Steve Martin in "Plains, Trains and Automobiles."
FOOD
Eateries showcase local ingredients at Downtown Restaurant Week
Something Sioux Falls loves more than parking ramps? Restaurants.
There won't be a shortage of parking when you make your way downtown for the Downtown Sioux Falls Restaurant Week from April 7-15. Participating restaurants have crafted a dish exclusively for the event, with a focus on local ingredients. Some eateries are offering main entrees and others desserts.
The participating restaurants: Bread & Circus, 'Brosia Bowl, Chef Lance's on Phillips, CH Patisserie, Crave, DaDa Gastropub, Harvester Kitchen by Bryan, Josiah's Coffeehouse Café and Bakery, Maribella Ristorante, M.B. Haskett Delicatessen, Minerva's, Monk's Ale House, Parker's Bistro, Pizza Cheeks, R Wine Bar & Kitchen, Sub Zero Desserts and Wiley's.
To see a list of dishes, visit the Restaurant Week website. Share your restaurant week experience on the website for a chance to win a $100 gift card.