South Dakota growing at a much faster pace than other midwestern states
The Sioux Falls metropolitan area fueled 1.5% population increase for the year ending July 1.
SIOUX FALLS — South Dakota was the fifth-fastest growing state in the nation for the year ending in July, according to the U.S. Census Bureau.
The state population increased by 1.5%, the top rate in the Upper Midwest.
That growth is evident in the Sioux Falls metropolitan area, where officials say they are seeing more people moving from more-populous states like California. That trend is reflected in the Census Bureau estimates which indicate that California had a 0.3% decline.
"Our housing is a lot more affordable than it is in other places so that's huge," said Amy Hix, an agent with The Experience Real Estate.
City level estimates are not yet available from the Census Bureau, but Sioux Falls has seen increases of 4,000 to 5,000 residents in recent years. That trend is expected to continue, if not bump up.
Growth is an indicator of economic health and quality of life but it can also strain resources. In Sioux Falls, the housing market has tightened and suburban school districts are struggling to meet space needs.
It's also a reality that city planners think about every day to stay ahead of the curve. That comes in phases spread over years.
Just having land available isn't enough. To build homes and businesses also requires water and sewer, then roads, parks, libraries and all the other pieces that are part of a neighborhood or business district.
That costs money.
In the city of Sioux Falls, it falls under the 5-year Capital Improvement Plan. From 2022-26 the total is $812 million, of which $333 million goes to highways and streets, $345 million for sewer and water and $58 million for culture and recreation.
"We spend a lot of time finding ways to stay ahead of growth," said Sam Trebilcock, senior planner for the city. "If you get behind, it's going to go somewhere else. We make sure there is enough land available."
Census numbers don't reflect motivation. But for whatever reason, families are choosing South Dakota at a greater rate than other midwestern states.
North Dakota
Nebraska, North Dakota, Minnesota and Iowa were all clustered between 0.1% and 0.2% increases.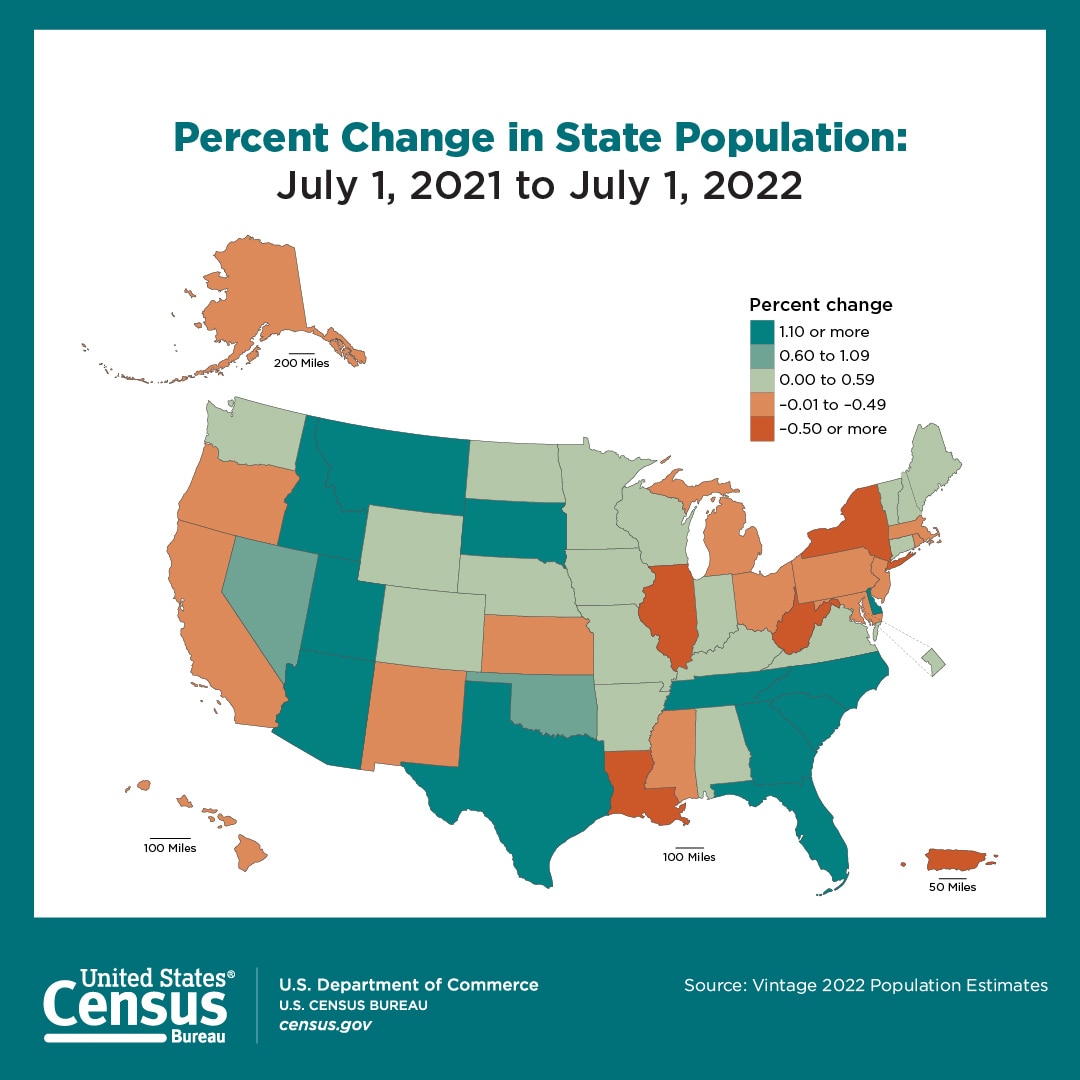 [Source: U.S. Census Bureau]
Even in raw numbers, South Dakota's growth was impressive, increasing by more than 13,600 people in the 12-month span.
Only Wisconsin saw comparable numbers in the Midwest, at more than 12,400.
Hix, the real estate agent, said affordability is a big factor but also she hears that people are drawn to quality schools and good roads, not just in the city but suburban communities such as Harrisburg and Tea.
The Sioux Falls metropolitan area has done a good job of planning for the future, Hix said.
"We are very good at predicting what is to come, not necessarily what we are dealing with at the time," she said.
Sioux Falls officials don't expect the growth to slow anytime soon. Assuming a conservative rate of 2% annually, puts the city's population at about 231,000 by 2030.
Further down the road, that calculates to 338,000 by 2050.
With the adjacent cities also growing, the metro area could top 438,000 by 2060, according to projections by the data firm Woods & Poole Economics .
Communities like Harrisburg and Tea are seeing 5% to 7% growth each year, said Jessie Fonkert, president and CEO of the Sioux Metro Growth Alliance , which focuses on economic development in the area.
"What we are seeing is more and more people choosing to live in this region which means more opportunities for businesses to locate here," said Fonkert.
That growth will mean increased pressure on infrastructure issues such as water supply, waste water treatment and roads, he said.
The SMGA hosts a monthly discussion for the 16 mayors of the metro area to address these issues and find points for cooperation. Projects such as future expansion of the Lewis & Clark Regional Water System are key to feeding population and business growth. They're also expensive, requiring tens of millions of dollars of public investment that can't happen without a high level of cooperation, he said.
"It's going to take all of us working together to make things work to the best of our ability," he said.