South Dakota State stars aspire to inspire at Whittier and McGovern middle schools
The Promising Futures Fund hopes to open the window of opportunity to students in Sioux Falls schools with high poverty rates.
SIOUX FALLS — What's it like to get mobbed by 250 autograph-seeking seventh graders?
Myah Selland and Isaiah Stalbird have a pretty good idea.
The pair were part of a contingent of athletes from South Dakota State University who traveled to Whittier Middle School on Tuesday, April 11, to chat with students about their experiences.
The mission, on behalf of the Promising Futures Fund, was to open doors and inspire kids to believe that one day, it could be them realizing their dreams.
Going to college.
Winning championships.
Being part of something.
Succeeding.
That message, however, was paired with a full-on autograph session where Selland, Stalbird and their colleagues were presented with any available piece of paper, clothing or body parts available.
"The objects that they've come up with have been fun," said Selland, who just finished her career as one of the greats of Jackrabbit women's basketball. "I don't think I've ever signed a Croc before."
The athletes, along with John Stiegelmeier, the recently retired head coach of the Jackrabbits national champion football team, stopped at Whittier and McGovern Middle School on this trip.
Stiegelmeier was making his first appearance on behalf of the Promising Futures Fund, after meeting founder Steve Hildebrand at the Summit League basketball tournament in March.
"There's nothing these guys would like better, than to say one thing that impacted your life," Stiegelmeier told the students. "That's why they are here. It doesn't have to be sports. That just happens to be their gift. We all have gifts."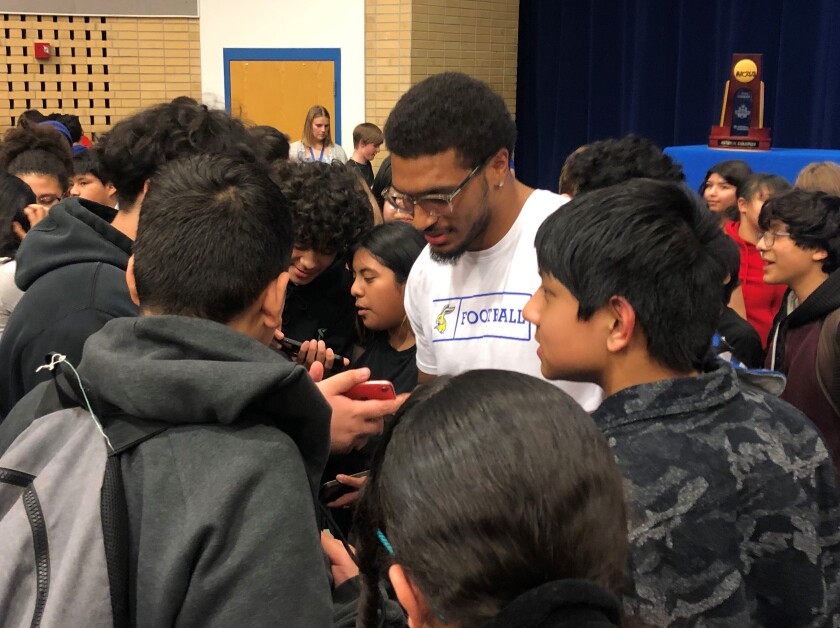 The Promising Futures Fund also brings kids to the universities to learn about academic opportunities, including a recent trip to the University of South Dakota Knudson School of Law.
Hildebrand, former political strategist, former adviser to President Barack Obama and former cafe owner, is dedicated to supporting schools in Sioux Falls with high poverty levels.
Whittier is a diverse school just east of downtown Sioux Falls. The kids speak 21 different languages and follow multiple religions. About 70% of families qualify for free and reduced lunch.
Stalbird is a linebacker for the SDSU football team, who grew up with a single mom in Chicago and Minneapolis before landing in Kearney, Nebraska. He shared his background with the kids in an effort to help them see there is opportunity in the world.
"Hopefully it motivates them," he said following multiple autographs and selfie sessions. "It doesn't matter where you start … It's not going to be the whole crowd but if you can inspire a few here and there, if you're able to do that, it means the world."
Whittier principal Erika Paladino said what the Promising Futures Fund is doing with schools in Sioux Falls "levels the playing field" for students. Bringing in the athletes, or taking students to area universities and introducing them to things they'd never dreamed of, demonstrates why school is important, she said.
"The earlier you see that, the more meaning that school has to you," Paladino said. "The more we can get young people in front of young people the better it is."