'Space & Technology Floor' coming to Kirby Science Center at Washington Pavilion
Dakota State University and Sioux Falls-based MarketBeat partnering to reimagine STEAM education at the pavilion in downtown Sioux Falls.
SIOUX FALLS —The final frontier is coming to the Kirby Science Center at Washington Pavilion thanks to a partnership with Dakota State University and Sioux Falls-based MarketBeat.
Washington Pavilion Management announced Thursday, April 13, that DSU and MarketBeat have contributed $375,000 to create the Space & Technology Floor. That will include exhibits and programming focused on STEAM, the acronym for science, technology, engineering, art and math education.
The design and remodeling of the second-floor space will begin this year, with installation in 2024, said Darrin Smith, president and CEO of the company that manages the Pavilion in downtown Sioux Falls.
Smith said the exhibits will give families a chance to learn through interactive, hands-on features and exhibits that will continue to change over time.
"We have a lot of parents and grandparents who bring in kids, that's what they want, they want them putting their hands on things, things they aren't doing at home," Smith said during the announcement in the science center.
MarketBeat is a digital media company that provides about three million subscribers with financial data, analysis and research tools for financial investing.
Matt Paulson, the company's founder and CEO, said he's a frequent visitor to the science center with his own children. But the space was "showing a little bit of age" and needs upgrading.
Room to Grow upgrade will be funded through a donation from the estate of Patricia Knutson.
"One of our hopes is that as we come up with new exhibits, that process that DSU and MarketBeat will lead, is that we can feature some of the things that are happening in space exploration today," Paulson, a DSU graduate, said. "Wouldn't it be cool if kids could dock a spacecraft at the (International Space Station)."
Paulson said he was inspired to pursue a degree in computer science that allowed him to start a successful business in Sioux Falls.
"I'm hoping that my kids have the same opportunity to be inspired," he said.
Dakota State's faculty and students will assist with creating and designing exhibits for the Space & Technology Floor and interact with youth through on-site education programs.
DSU President Jose-Marie Griffiths said the involvement of the Madison-based university is an investment in the future of the region.
"We've had several meetings on campus with interested students, faculty and staff and as you might expect they have already started brainstorming ideas," she said. "These new exhibits and programs that will help imagine, design, develop and bring to realization, actually reflect investments in the technology-forward future of South Dakota and the surrounding region."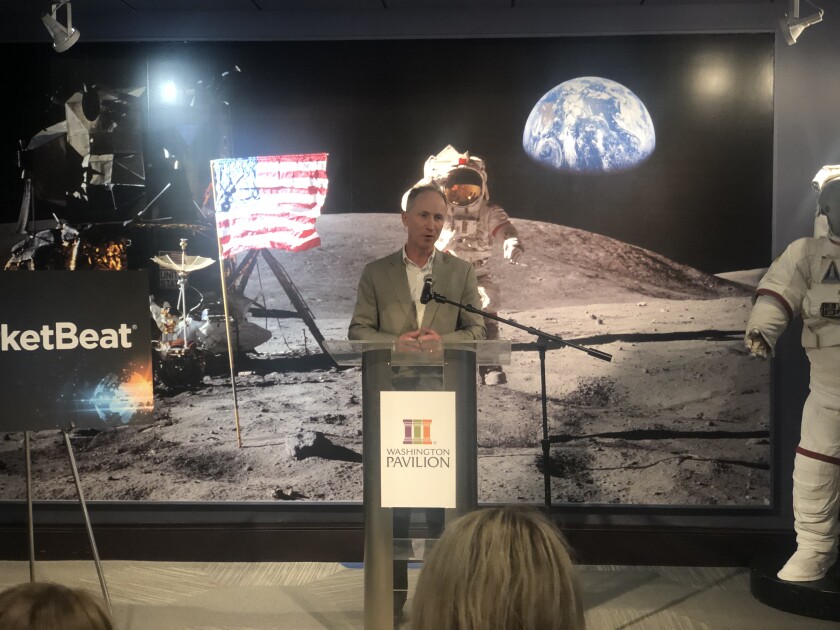 The STEAM aspects of the Space & Technology Floor will compliment other upgrades already underway in the science center, Smith said.
A new immersive water exhibit will open in about 45 days. And the $2 million Sweetman Planetarium is scheduled to open in August.
Smith said the designers of the planetarium said it will be the most advanced in the country when it opens.
"That's pretty cool, you don't get to say those words every day."