Zimmer: Augustana's Dave Krauth, a giant in South Dakota basketball, leads Vikings on one last ride
Legendary women's basketball coach to retire after 34 years.
You can picture Dave Krauth, can't you?
The 6-foot-5 coach in a dark colored shirt and gray sportcoat — that's how you picture him, right? Striding back and forth in front of the Augustana women's basketball bench, arms folded across his chest, head tilted slightly upward as he watches the action unfold in front of him. A brooding stare that, just when it starts to feel intimidating, breaks into a warm smile or amused grin. Krauth might remind you of a Game of Thrones elder (if any of them were good guys, anyway) — calm and composed, dryly funny, his deep, baritone voice rising above the sounds of the game when he'd suddenly become animated.
For 34 years, that's the picture that has stalked the sidelines of Augustana women's basketball games, and it's almost impossible to imagine a different one. Krauth took over as coach of the Vikings in 1989 — just when America was starting to consider taking women's sports seriously — and he immediately built them into a winner. No program at the private, Division II college has been as consistently successful as the women's basketball team has for the last three-plus decades.
In 34 years, Krauth's teams have had 33 winning seasons. They've surpassed 20 wins 21 times, been to 14 NCAA tournaments, won multiple conference or division titles and in 2012-13 reached the Final Four.
But this year is the last year. Krauth announced in October the 2022-23 campaign would be his swan song, and with the NSIC tournament set to begin Tuesday (the Vikings earned a first-round bye and don't play until Sunday at the Pentagon), the end is nearing.
He's authored a 694-300 record as the Vikings coach, which, coupled with the 347 games he won as a high school coach, gives him 1,041 total victories. And he's going out with a bang. The Vikings are 24-4 on the year, a serious threat to win the NSIC tournament and a strong candidate to go to the NCAA tournament even if they don't.
While Krauth has stressed from the start that this season is about his players and their pursuit of a great year, everyone around the Augustana program recognizes the gravity of what's been going on. Few people have impacted Augustana like Krauth, perhaps fewer still have made as big an impact on women's sports in South Dakota.
If one were to make a list of the most successful and influential coaching careers in South Dakota athletics, Krauth would belong towards the top of it. He's an institution, and his impact will be felt across the state long after his final postgame handshake.
"He's the reason I coach the way I do," said Jefferson High School coach Shaunteva Pruett, who played point guard on the Final Four team and was the 2015 NSIC scoring champion and player of the year. "It was an honor to play for him and to be a (graduate assistant) and coach with him. I'm happy for him but sad to see him go. He poured so much into that program. They were lucky to have him as long as they did."
Krauth's win/loss record speaks for itself, and there are dozens of accomplishments along the way that have marked the Vikings' success. But the singular highs are not likely what will define his legacy. What makes Krauth so synonymous with Augustana isn't just the longevity, either. It's the evolution of Viking athletics and college women's basketball that Krauth oversaw in his career.
When he was hired in 1989, the Vikings were coming off an 8-win season. Krauth, who had been a star player at O'Gorman and Sioux Falls College, had spent time as a boys and girls coach at Tri-Valley and then moved on to Des Moines to coach girls when Bill Gross, then the Vikings men's basketball coach and athletic director, kept hearing Krauth's name pop up as a possible candidate for the open job.
"I was getting recommendations for him left and right," Gross remembers. "People said, if you want to build a program, Dave's your guy."
Whoever 'they' were, they were right. The Vikings went 19-10 in Krauth's first year and 26-4 in his second. This was in the old North Central Conference, where the four public state schools from the Dakotas could be as powerful as any in Division II, and Krauth relished the challenge of competing with them.
But more importantly, he saw an opportunity in Sioux Falls and at Augustana to build a program that wasn't just successful, but that people would want to come out and watch.
"One of the things that made it easy was our fanbase," Krauth said of the early days. "They took to us very quickly. The way we played was a little different. We were up-tempo, we pressed, we shot the 3. The fans responded to that, I sensed that and it motivated me to keep this thing going."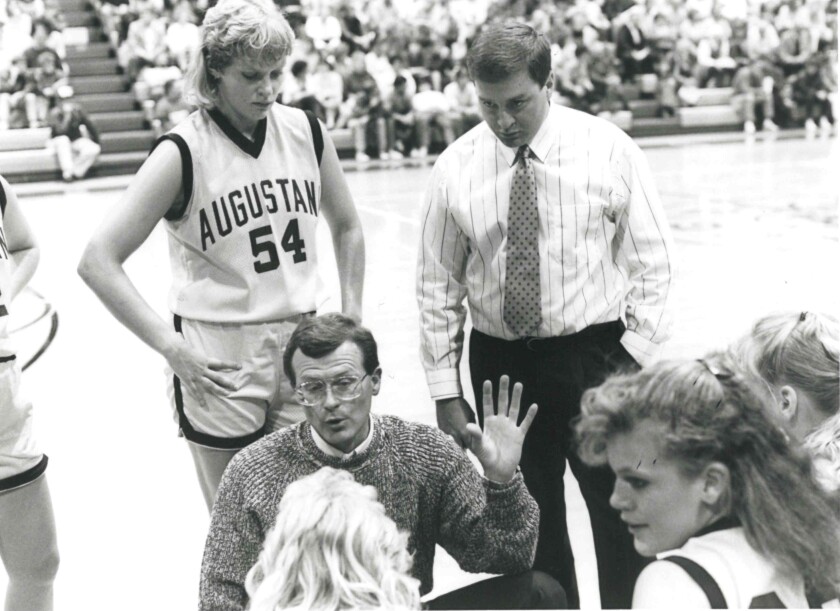 Keep it going he did, as the Vikings routinely competed with the top teams in the NCC. The men's team fell on hard times after Gross stepped down from coaching, and for much of the 90s and 2000s, the women were what drew fans to the Elmen Center.
Tom Billeter had been the NDSU men's coach in the 1990s and remembers crowds of 6,000 or more showing up for NDSU-Augustana doubleheaders. When he took over the Viking men in 2003, he wanted to recreate that.
"It finally happened here, but it wouldn't have worked in the first place without the success of Dave's teams," Billeter said. "He always put a really good product out on the floor. He did a good job of making his girls better and promoting the game. He's just been an outstanding ambassador for women's basketball."
When the Dakota schools moved up to Division I, recruiting in-state talent got more difficult. When USF jumped up from NAIA to join Division II and the NSIC, it posed a further threat.
It never worried Krauth. In part because, while he'll never say so, he likely knew he was a better coach than most, and could win by finding the right talent, not necessarily the best talent.
"One thing he did better than a lot of coaches was develop players," Gross said. "A lot of coaches, including myself, will fall back on the old line — 'You're only as good as the players you recruit'. Well, that's true to a degree. With Dave's players, they got better every year. There would be gals I'd watch in practice and think, geez, she's never gonna be able to play. Pretty soon, she's getting better as a sophomore, starting to play more as a junior and by her senior year she's a starter and averaging in double figures. It was like that all the time."
How did he do that? Part of it was teaching — his teams were always fundamentally sound. But part of it was the confidence Krauth had in his players and the confidence he instilled in them. He wanted basketball to be fun, not just in the style they played but in practices, too. And his stoic sideline demeanor carried over into how he treated his players. He made academics a priority without being sanctimonious or insincere about it. It's no coincidence so many of his former players — literally too many to name — became coaches themselves.
"He's just one of the steadiest, most consistent people you'll ever meet," Gross said. "He doesn't overreact when things go badly and he doesn't overreact when things go really well. He did make adjustments over the years, but that steadiness he had about him was so important. A lot of his players were kids other schools didn't go after. He saw something in them and had the confidence to know they'd turn out to be pretty good. That took a lot of patience, too."
The wins kept coming. Krauth coached his daughters, Julie and Katie, who were both star players on the hardwood and on the softball diamond, where Dave had coached both of them in summers (his involvement and support of women's sports was not limited to basketball). There were nine consecutive 20-win seasons, starting in 2004-05 and ending with the Final Four run of 2012-13. Led by Alex Feeney, Lydia Nelson, Emily Schulte, Faith Tinklenberg and Pruett (then Shaunteva Ashley), Andrea Whitney and Cami Koehn, the Vikings romped through the conference tournament and edged Emporia State at the regionals in Kansas to earn a trip to the Elite Eight in San Antonio. There, as the lowest-seeded team, they routed undefeated Clayton State, the No. 1 ranked team in the nation, to reach the Final Four before running out of gas in a loss to Dowling College.
It was the highwater mark for the program but certainly not the last of the good times. After taking a step back the following year, another run of five straight 20-win seasons followed, highlighted by the 2017-18 season where they went 29-4, won the NSIC and fell one win short of another trip to the Elite Eight.
It was around then that the questions about how much longer Krauth would coach began to swirl. He admits he thought about it more and more in recent years, but certainly nobody at Augustana was in any hurry to push him out the door.
Now 73 years old, Krauth remains popular with players by never pretending that he isn't 73 years old.
"You know what you're getting with Coach Krauth and I think the girls appreciate that," said Katie Bourk, who's been Krauth's assistant since 2011. "He doesn't try to be somebody he's not. He's not trying to be in style or talk in their language. The kids have a great deal of respect for him because they know he's got their back. I always tell them whenever something happens and maybe someone is afraid to go to Dave with something — hey, he's been doing this for 34 years. Whatever it is you tell him, it's not going to be the first time he's heard it. I think that's something they really appreciate about him."
Krauth didn't want his decision to retire announced until after the season, even though he'd already made it. He didn't want the 'farewell tour', and the for the most part, the distractions have been minimal. The alumni gatherings have been more emotional and the team meetings and gatherings have felt more personal.
And now that the Vikings are potentially one loss from the end of their season, the players are probably even more motivated than before to win for their coach, something Krauth has never wanted to be their focus.
"He hates the attention," Bourk said. "He's tried to take it all in stride and I really think he's enjoyed himself this year. He's been the same old coach, even-keeled as always."
There have been plenty of celebrations for Krauth over the years, of course. He was honored after his 500th win in December of 2013 and just over four years later got to 600. Two years ago, he reached the 1,000-win milestone when combining his high school and Augustana totals.
Through the years, Krauth never seriously considered leaving for potentially greener pastures. Sioux Falls, he says, has always been home. Augustana has always been a place he believed in.
Can his final team make a deep run into March? Why not? They have a pair of wins over top-10 teams, one of the best players in Division II in Aislinn Duffy and a host of top contributors alongside her in Lauren Sees, Michaela Jewett and Jennifer Aadland, among others.
"The goal this year is to make the regional; get into the NCAA tournament," Bourk said. "That's where our focus is, and we're going in confident. And yeah, the players definitely want to send coach out on the best note we can."
Hundreds of former players will be rooting for him, and when asked about favorite memories, it's reconnecting with those players over the years that Krauth cites first.
But as unemotional as Krauth has outwardly remained throughout his final season, those emotions will be impossible to ignore when the Vikings play on Sunday and in any remaining games they get this season.
You can picture him, right now, expressing his frustration with an official not with screaming and pointing, but with a deep inhale and a disapproving frown. Then, a moment later when the ref has turned his back, a smirk. Stoic, under control, right where he's wanted to be for the last 34 years.
Now try picturing the Viking sideline without Dave Krauth. You can't, can you?