Dru Gylten's steady play at point guard a major key to South Dakota State women's basketball success
Rapid City native transferred from Utah and has been as advertised as one of the country's best passers
BLACKSBURG, Va. — If you look at South Dakota State's team statistics, Dru Gylten doesn't stand out.
Way down there on the page, she's easy to miss entirely. Averaging a modest 4.7 points per game, eighth on the team, you'd be forgiven for assuming she's a bit player, someone who fills time on the floor while the starters get a breather.
A closer look at the stats reveals a little more — she leads the Jackrabbits with 109 assists despite playing just 19 minutes per game, she's shooting 39% on 3-pointers, and her 2.1 assist/turnover ratio is the best in the whole Summit League.
But even that doesn't really tell the story.
Gylten is a sixth-year senior, a Rapid City native who was a prep star at St. Thomas More High School and then went on to play in the Pac-12 at Utah. She won multiple championships with the Cavaliers in high school, where she teamed with eventual Augustana star Aislinn Duffy to make St. Thomas More into a Class A power. From there, Gylten enjoyed an excellent career with the Utes, developing into a reliable pass-first point guard who earned a reputation as an unselfish assist machine with a knack for making passes few other players in the country would dare attempt, let alone complete.
And that's exactly what she's been in her first (and last) season with the Jackrabbits. A championship pedigree as a South Dakota high schooler, a four-year starter in the Pac-12 who had 11 assists in an NCAA tournament game and a playing style that makes her one of the best facilitators and leaders in the game. Gylten has been a perfect fit for an SDSU squad that entered the season with high expectations and now begins an NCAA tournament run on Friday in Virginia, where the 9th-seeded Jacks will take on 8th-seeded USC — a former conference rival of Gylten's — in the first round.
"My decision to come to SDSU — there's no regrets at all," Gylten said. "It's been an amazing season here. Everyone has welcomed me with open arms. The culture here is just so different than in other places. Being able to say I'm a part of that, and then making it to March Madness again has been a blessing. It's been awesome."
It's been awesome for the Jacks, too.
When the season began, sophomore point guard Paige Meyer was still recovering from a season-ending knee injury from the previous season. Gylten suffered a knee injury of her own in preseason, but opted to play through it with a brace, and she served as the quarterback of the Jackrabbit offense throughout the non-conference season.
Having led the Pac-12 in assists in 2022 with 5.2 per game (her fourth straight season averaging at least five assists), Gylten immediately asserted herself as that same kind of player for SDSU. She has the unflappable steadiness one would expect in a veteran point guard, but she's severely talented as well, particularly as a passer.
Coach Aaron Johnston has credited Gylten for her ability to 'throw teammates open' — meaning she can see a pass and deliver the ball there before her teammate sees it or arrives for the catch — and she's also shown a knack for no-look passes, something her teammates needed some time to catch up to.
"Dru's basketball IQ is really high," said senior Paiton Burckhard. "She sees the floor really well and makes awesome passes, most of the time before you even know she's looking at you. Or she's not looking at you and all the sudden you have the ball in your hands. She brings a lot to the table that ultimately lifts everyone up and makes everyone around her better."
Indeed, Gylten's passing is her calling card. She was a capable scorer in high school, but even then looked first to set up her teammates. And to be clear, that's not because she can't shoot. Gylten once scored 24 points in a Pac-12 game against — guess who — Southern Cal, averaging 8.8 points as a freshman. But over time, focusing more on facilitating teammates came naturally to her.
"It started at a younger age," Gylten said. "My dad was my coach and I had always been selfish and scoring a lot. He gets a lot of the credit for making me into the passer I am. I can score, but I just love passing so much. That brings me the greatest joy — to create for my teammates. I'll shoot when I'm open but I'll always be a pass-first point guard."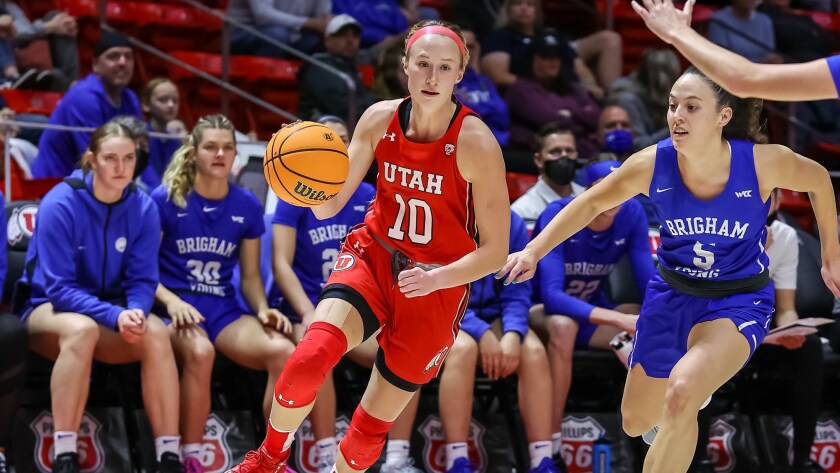 On this SDSU team, that's made her a perfect fit. Senior Myah Selland is a former Summit League scoring champ, Burckhard has been a consistent double-figure scorer and Haleigh Timmer, briefly a teammate of Gylten's at St. Thomas More, has developed into a legit scoring weapon. Add in that Meyer is healthy again and much more suited to playing an attacking style of point guard, and Gylten gelled with her new team like she's been playing with them for years.
"She fits into the team so well," said Timmer, who has known Gylten since they were children. "She brings an extra edge of competitiveness and knowledge of the game. She just brings a calmness to the court, even when things are going not so good. Everyone looks to her and gravitates to her. She gives us a calm and composure that helps us get things going in the right direction."
Johnston said the Jacks were well aware of Gylten coming out of high school, but there wasn't a lot of recruiting contact because it was apparent the 5-foot-10 guard would be going to a major program. But they always kept an eye on her and she kept an eye on the Jacks.
"When she got into the portal and we began talking to her, you could tell right away it was a great fit," Johnston said. "The things she valued are the things we value. I hope the experience has been what she wanted it to be, because from our perspective we couldn't be happier that she'll finish her career as a Jackrabbit."
The Jacks will lean heavily on Gylten this weekend in Blacksburg. She's played against their first round opponent and spent four seasons playing against power conference foes night in and night out. That's made her an ideal leader, even as a newcomer, but it's contributed to her effectiveness running the offense and making highlight passes, too.
"I've always had good peripheral vision where I could see things happening before they do," Gylten said. "I have so much experience playing basketball that I feel like I've been able to develop my passing game a lot. And I love it so much, I've constantly worked on it. I just think it's unique how I play. You have the ball in your hands so much as a point guard, you don't want to be predictable, and that's my way of being unpredictable."