Bergen Reilly of Sioux Falls named South Dakota Gatorade Player of the Year for third time
O'Gorman High School senior will play college volleyball at Nebraska.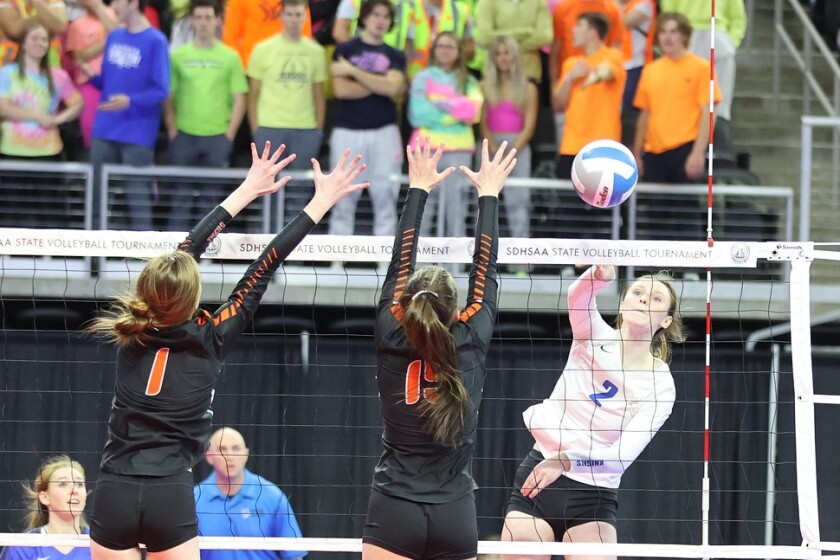 SIOUX FALLS — O'Gorman senior Bergen Reilly has been named the Gatorade Player of the Year for high school volleyball in South Dakota for the third straight year.
Reilly is one of the best volleyball players to come out of South Dakota. She is ranked as the No. 1 setter in the country and the fourth-highest prospect in the class of 2023, according to prepvolleyball.com.
Reilly was the first high school player in 20 years to join an Olympic-level team and has signed to play college volleyball at the University of Nebraska.
"Bergen was the best attacker in the state, the best setter and could be the best at other positions," said Cale Hecht, head coach at O'Gorman. "She does all this while being an incredible leader and example in the O'Gorman program … She is in many people's minds the greatest player to ever come out of South Dakota high school volleyball."
Reilly was the winner of Miss Volleyball in 2022 for Class AA in South Dakota, finished as an American Volleyball Coaches Association and Under Armour All-American.
She is the only three-time winner of the Gatorade award in South Dakota and joins Ava Nilsson of Wagner as the state's only four-time, first-team all-state selections.
Reilly made her first-ever Team USA National Team during the 2021 season. In September 2022, she played with Team USA's Senior National Team in Pan American Cup Final Six in the Dominican Republic.
Reilly had 440 kills (4.7 kills per set), 26 blocks, 338 digs (3.6 digs per set) and 60 aces (97.5% serve percentage), while posting a .307 hitting percentage in her senior year. For her career, she had 1,605 assists, 1,285 kills, 1,236 digs, 254 aces and 176 total blocks.